I meant to do one of these last month but got caught up in all the other posts and never got around to it. Whoops. Anyways, I have been up to quite a bit since the last one of these posts, mostly making things for the shop. I have a bunch of new product.
Check it out
.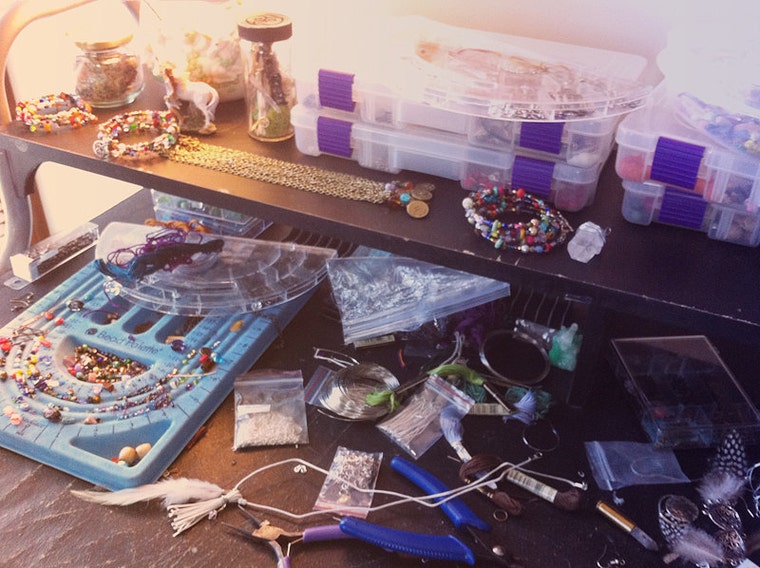 My work space. Not the cleanest, I know.
Watching: Vikings! I am head-over-heels for it. It's a history channel show, if you are unfamiliar with it, and I highly recommend it. Me and my boyfriend have also been watching Firefly because he's never seen it. He loves it, as I knew he would.
Reading: Right now I am reading American Gods by Neil Gaiman. I finished Sense and Sensibility by Jane Austen not too long ago. Not sure what will be next on the list though. Maybe some urban fantasy. It's been awhile since I've picked it up.
Wearing: Around the house I have been wearing gym shorts and t-shirt. Out and about I have mostly been just wearing jeans and a top -not very exciting. Although I did dress like an Egyptian princess/badass last week. That was fun.
Drinking & Eating: Tons of water, green tea, and black coffee. And asparagus was on sale the last time we went food shopping so we have been enjoying that as well. I love asparagus. Now if only brussel sprouts would also go on sale.
Thinking About: Mostly shop stuff. I have been scheming new designs and ideas. My head is filled with beads, charms, ribbon, and knots. It's an exciting place to be, haha.
Inspired By: Most of my inspiration as of late is coming from looking out the window. It is finally starting to feel like spring. The snow is melting and it has been warm enough to open the windows, something that Eli is quite happy about. Birds are singing, the sun is staying up longer, and I can all around just feel spring sinking in around me. That is my muse.
Doing: Making jewelry, writing blog posts (I have been powering them out, I have a bunch of stuff scheduled and being edited at the moment, excited?), chasing the cat round the house, reading, and cleaning.
What have you been doing lately?
Lady Unlaced