Today is the fall equinox -the first day of Autumn. I couldn't be happier. I love summer -the shorts, sunshine, beach trips, and flip flops- but autumn is my favourite season. It's the most beautiful month, especially in New England. It would be nice if it lasted longer but I'll take what I can get. And with the autumn season going into full swing that means the rise of Halloween decorations in stores and getting into the spooky spirit. I realize Halloween is still over a month away but it's my favourite holiday and I can't help but get anxious for it.
Anyways, the Autumn Equinox is a lovely holiday for me and my fellow witches. It's not as huge an event as Yule or Samhain (Halloween) but the change of seasons are always a thing to be celebrated. This change of season from summer to fall is called Mabon in the witchy world. It is a harvest holiday and in the Wiccan tradition (keep in mind I am not Wiccan) it marks the deterioration and death of the Horned God who will eventually be reborn again of the Goddess in the spring.
Mabon is a time of being grateful and giving thanks and is often celebrated with a feast of some sorts.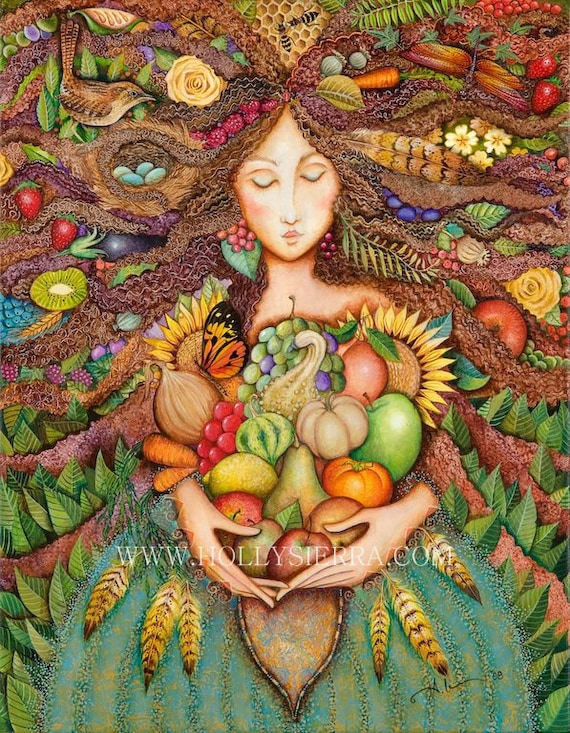 Buy this print here.
Good altar decorations for witches on Mabon include things like a pomegranate (remember the Persephone and Hades myth? -this would be the time of year she would return to the Underworld), autumn leaves, acorns, and pine cones. Anything that reminds you of Autumn is usually a good idea. Mini pumpkins are a personal favourite of mine, I like to keep them on my altar as well as around the house.
Check out
this page
for more info on Mabon and a list of links for history, traditions, crafts, and food.
Lady Unlaced